Mid-State Shearing Shed
The Mid-State Shearing Shed is open Monday to Friday from 9:00am to 12:00pm. It was built in a disused railway goods shed by a group of retired shearers and the people of Nyngan. Their wish was to inform the public of the important contribution that the shearing industry is continuing to make to Nyngan and New South Wales. The organisers also wished for the Mid-State Shearing Shed to display the talents of the local artists. The Shed is located on the Mitchell Highway adjacent to a parking bay and Heritage Park.
Download Shearing Shed Brochure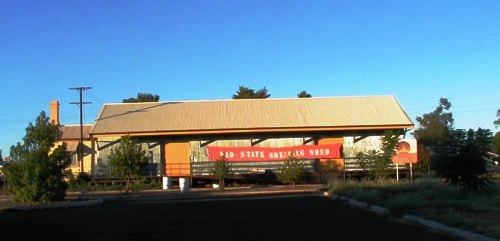 The Nyngan & District Museum
Make time to visit the local Museum to learn more about the history of Nyngan.
The Museum is located in the Railway Station and is opened Monday to Friday from 9:00am to 4:00pm.
Some of the items on display include:
Boards depicting our history from 1835 when Major Mitchell first ventured down the Bogan River to find many waterholes
Photographs and history of the Nyngan area
Video and photographs of the 1990 Nyngan flood
Display of a 1800s kitchen from Gilgione Station
A railway display showing the important role the railway played in the history of Nyngan
The switchboard from the local telephone exchange
Microfilm of Nyngan Newspapers from 1898 to 1996
Scale model of the Girilambone Copper Mine
Download Museum Brochure